Template:News
9 April 2016 - Tom running artist development seminar in Chch on May 2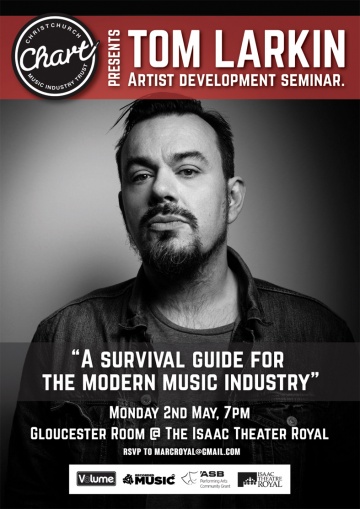 Christchurch artists may want to head along to Tom's "A Survival Guide for the Modern Music Industry" seminar in the Gloucester Room @ ITR, Christchurch 7pm. Touted as one of the best minds in NZ music today (he sure is!), you won't want to miss this. Limited attendance, RSVP as soon as possible if you're interested.
Read more about it here
3 April 2016 - Shihad. Three shows. One day.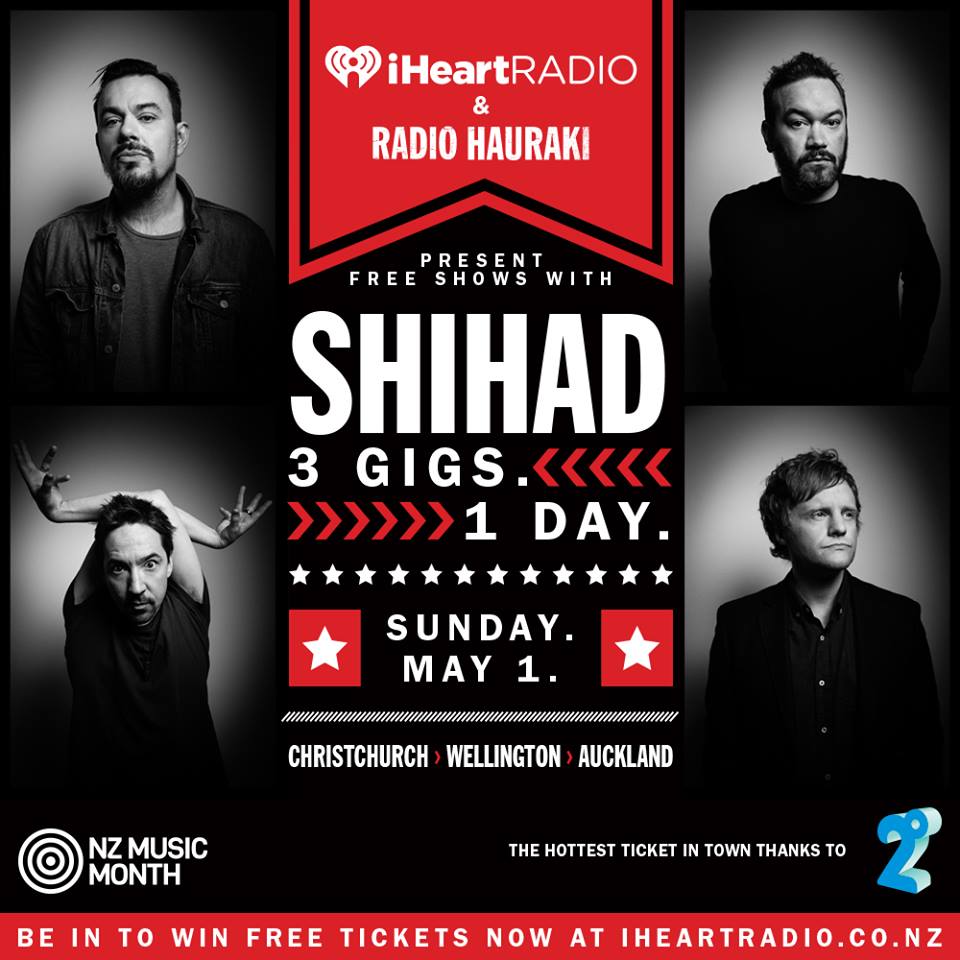 "To launch New Zealand Music Month,iHeartRadio New Zealand and Radio Hauraki are embarking on their most ambitious event yet, which will see iconic New Zealand rock band Shihad play three free shows in three different cities on one day.
The live performances will be held in Auckland, Wellington and Christchurch on Sunday, May 1. Catch a lunch-time Shihad show at CPIT in Christchurch doors open at 11.00am, followed by a Wellington gig at Meow doors open at 3.00pm, then Aucklanders can catch Shihad at the Powerstation doors open at 7.00pm."
Strictly R18. Register to win your tickets at IHeartRadio
2degrees customers can also enter to win thanks to 2degrees Perks
8 March 2016 - Shihad to re-release S/T album with Blue Light Disco on Vinyl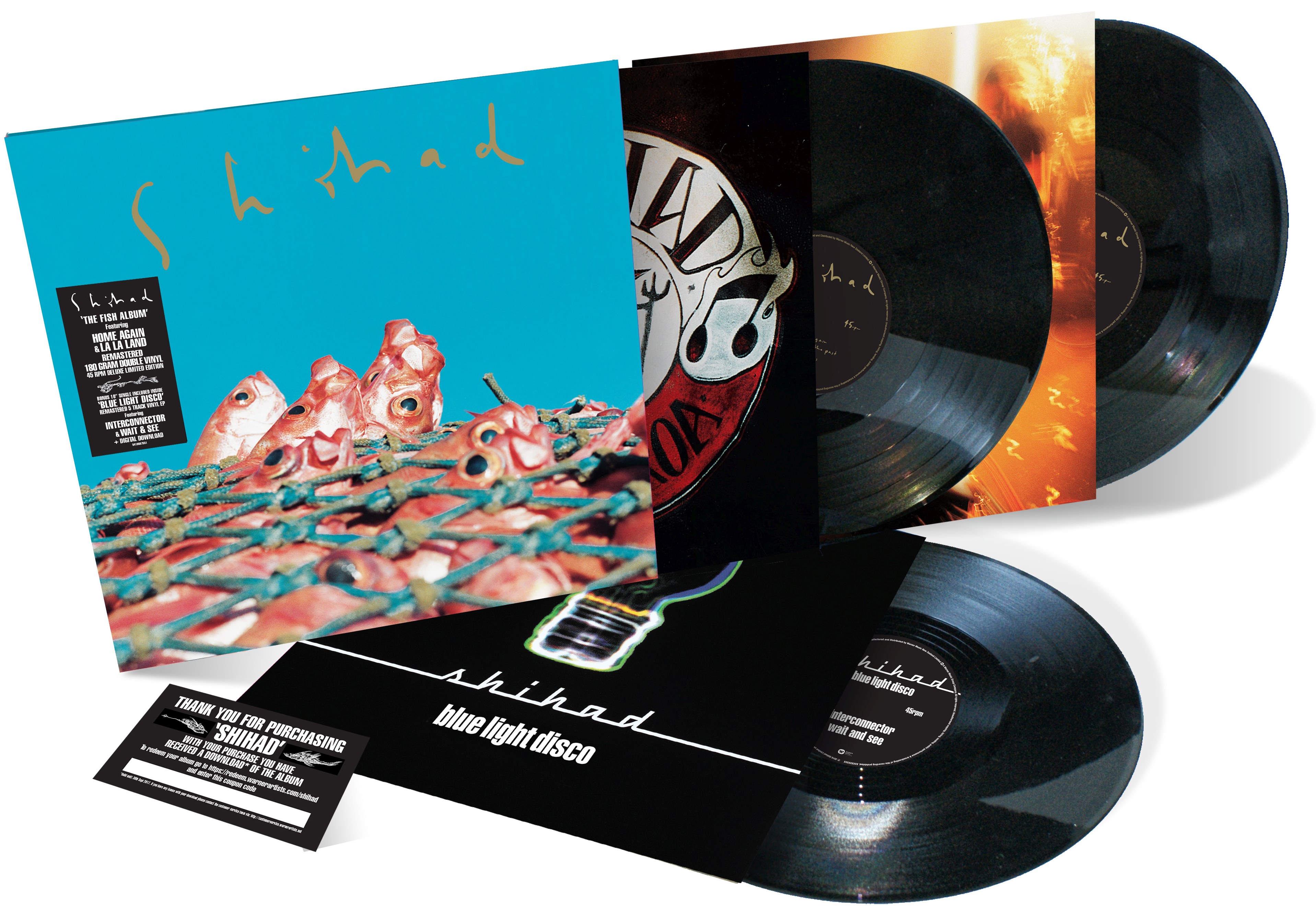 This April 15th sees the first-time ever vinyl release of Shihad's self-titled third album in a deluxe 2LP set with an additional 10-inch of the 1998 Blue Light Disco EP. This attractive package is vinyl heaven for Shihad fans and vinyl junkies alike.
Shihad's self-titled breakthrough album, often known as " The Fish Album", debuts on vinyl as a 2LP set – with the bonus Blue Light Disco 10-inch vinyl EP and also a Digital Download Card.
The third album is longer than their earlier vinyl reissues Churn and Killjoy, so it has been spread across two discs as to not diminish volume and audio quality. The presentation of the tracks over two vinyl discs allows the recordings to achieve maximum audio quality and the discs are able to track at 45rpm. The original recordings have been re-mastered by Tony 'Jack the Bear' Mantz, who has done all the previous Shihad vinyl reissues.
The two releases, Shihad's self-titled album and the Blue Light Disco EP are packaged independently but are being sold in one set including a download card. They will be available digitally, but sold as two separate downloads.

Pre-order here: HERE
8 June 2015 - Shihad's PledgeMusic Campaign, Phil's Worrying Again & Jon's Got A Voice For Radio...
"Hello. We are running a Pledge campaign for UK and Europe as a means of properly releasing our album there Independently. Clearly that excludes our fans at home who already have the record and who can buy through traditional retail routes. So as part of our efforts and through Pledge we're opening the campaign up globally so all have the chance to acquire something from our incredible archival catalogue . Hopefully there are things here which every Shihad fan will want a piece. Thanks for your ongoing support and we look forward to realizing our goal of a well funded, effective and independent release of FVEY in the UK and Europe in August 2015." Feel like getting your hands on some incredibly rare Shihad memorabilia? See what's on offer on their PledgeMusic page. Setlists, posters, drumsticks, and even your own private concert if you're really keen. Head to the website to check it out!

Meanwhile, Phil Knight's understated and brilliant mind has stepped out from behind his gat and started blogging again. What's Phil Worried About Today? To find out, check his website, YouTube Channel Facebook page Instagram and Twitter.

Finally, from fronting rock bands to fronting his own radio show, Jon Toogood has his own show called 'Planet of Sound' on Radio Hauraki on Saturdays from 5-6pm NZT, in which he plays "whatever he thinks rules". You can stream it on Radio Hauraki's website, or via the traditional radio airwaves through your local Hauraki frequency, and you can listen to the playlists on Spotify.

Support your heroes and get involved!
12 May 2015 - One-off Melbourne Show Announced
In The Dead of Winter, "we've just announced a one off Melbourne show this winter at The Corner Hotel on Saturday July 11th. Joining us are King Of The North & Captives". Don't miss out.
July 11th Corner Hotel, Melbourne (VIC). Tickets on sale May 15th from 9am. Tickets from Ticketscout
24 April 2015 - Auckland & Queensland Shows Announced
Attention, Auckland! SHIHAD annnounce KILLJOY live at the Powerstation. The 20th anniversary reissue of Killjoy has been remastered and is available now on Deluxe Vinyl LP, CD and digital formats and includes bonus track 'N.I.L'. Catch Killjoy performed live in its entirety at The Powerstation this May! It's a one-off show so be in quick.
May 22nd The Powerstation, Auckland. Tickets from Event Ticketing.

Attention, Brisbane! "Hell yeah - we're excited to announce a one-off long lost weekend of Rock N Roll mayhem aimed at Brisbane. To celebrate the anniversary of one of our favorite albums KILLJOY we're set to 'tour' Brisbane over three huge nights performing large chunks of both FVEY and KILLJOY along with the choicest cuts from our other releases." With Special Guests on all dates Guards Of May & Street Pieces.
June 5th Hamilton Hotel, Hamilton (QLD). Tickets from Moshtix
June 6th Parkwood Tavern, Parkwood (QLD). Tickets from Moshtix
June 7th The Racehorse Hotel, Ipswich (QLD). Tickets from Moshtix
6 March 2015 - Killjoy - 20th Anniversary Remastered CD & LP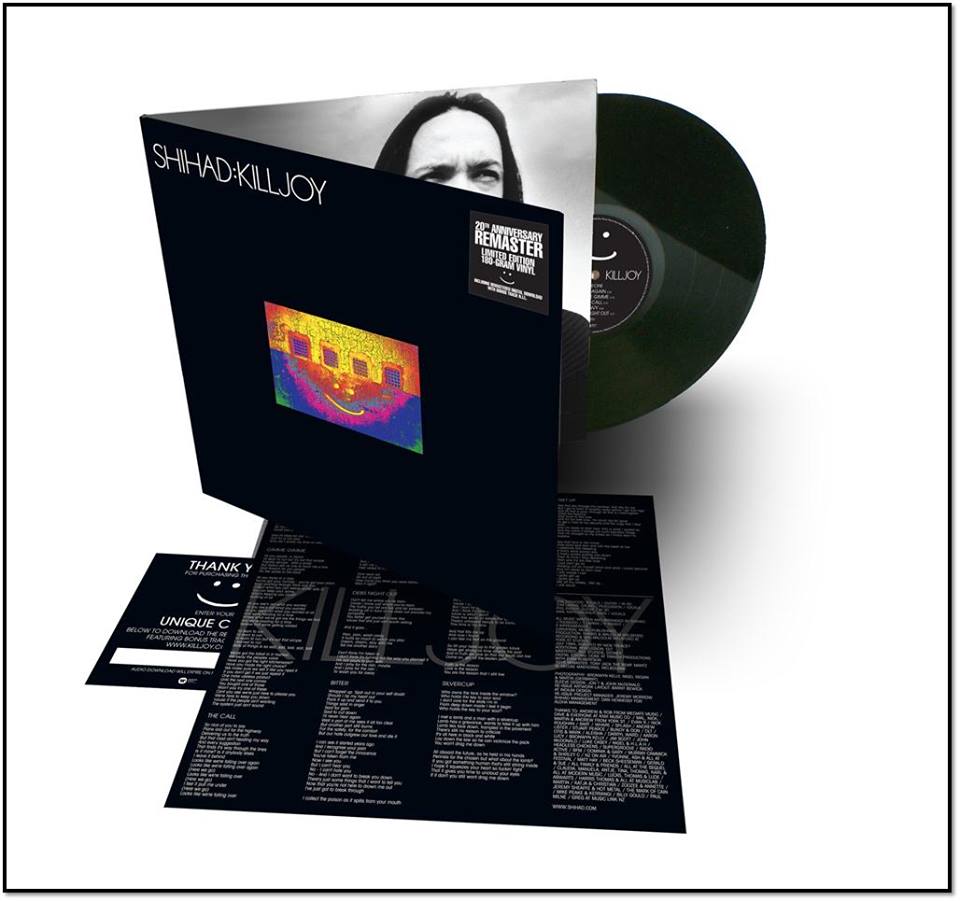 "SHIHAD'S KILLJOY TURNS 20 AND SOUNDS BETTER THAN EVER
Listening to KILLJOY is like getting a big, beautiful punch in the face. It'll give you two black eyes but leave you smiling. It's that good. And now that Shihad's classic second album is turning 20, it's fitting it gets the re-mastered and reissue treatment to make it sound bigger and more imposing than ever. KILLJOY is volatile, catchy, and intense all in one.
This storm of sonic power isn't just one of New Zealand's finest rock albums - it's one of the country's best albums full stop.
If 1993 debut, CHURN, was the sound of Shihad's roots, then KILLJOY was the blueprint for the band's trademark mix of melodic heaviness, pounding rhythms, and catchy songs that get people singing and chanting along.
Released in May 1995, KILLJOY peaked at No.4 on the album charts and went on to gain platinum status and win album of the year at the New Zealand Music Awards in 1996.
The album's four singles – 'You Again', 'Bitter', 'Gimme Gimme' and 'Deb's Night Out' - are among the band's most enduring tracks. Few songs have the chest beating intensity and unbridled power of album opener, 'You Again', with its punishing massacre of first up riffs through to its unhinged and fractured ending. And the simmering, dark beauty of 'Deb's Night Out' - the band's ode to bizarre and brutal Palmerston North band Skeptics - remains one of Shihad's finest moments.
While CHURN received some overseas recognition, it was KILLJOY that truly launched Shihad onto the international stage when they hit the road with Faith No More on a 38-date tour through Europe. It also led to the band's first tour of the US where they played everything from club dates in Los Angeles and New York through to influential heavy metal convention Foundations Forum alongside Motorhead and Monster Magnet.
The 20th birthday reissue of KILLJOY - available on re-mastered Deluxe Vinyl LP, CD, and Digital formats and includes bonus track 'N.I.L' - is testament to what a complete album it is from start to finish. Take your pick from the fiery spite of Bitter, the brooding and thunderous 'For What You Burn', or the raw slugging ferocity of 'Silvercup'.
The thing about KILLJOY is that it sounded exotic, heavy and ahead of its time back in 1995, and now two decades on it sounds even better."

In stores from April 17.

Pre-order from:
Mighty Ape (NZ) - Link
Mighty Ape (AU) - Link
JB Hi-Fi (NZ) - Link

Check out the remastered versions of You Again, Bitter, Gimme Gimme and Deb's Night Out on YouTube.
13 March 2015 - A Movement - Shihad & Wellington Rock (Book)
Ian Jorgenson, photographer and founder of A Low Hum, has been busy putting together a set of ten photobooks documenting New Zealand music from 2000-2015. Book 4 is dedicated to Shihad & the Wellington rock scene and features 100 colour photos in an A5, high-quality print book. Other books in the set document different bands and events, including Kiwi bands Shihad has toured with (e.g. The Datsuns, The Mint Chicks) and a lot of NZ music history over the last 15 years. So if you're interested, buy one, buy more, or just buy the whole darn box set and make room for some beauty on your bookshelf!
Available for pre-order and Shipping on Monday, March 16. $27.95 + what looks to be free shipping for NZ, check website for international shipping prices.
Buy the book and browse the others in the series here on FlyingOut.co.nz.
19 December 2014 - FVEY (Deluxe Edition) On iTunes
Shihad have relesed the Deluxe Edition of FVEY on iTunes. You can get the entire FVEY album, with all of the bonus tracks and three music videos for $15.99. Treat yourself to an early Christmas present, and get it right here.
18 November 2014 - FVEY Gold, New Single
Shihad's latest album, FVEY, has been certified Gold. This comes hot on the heels of the news that Song For No One has been released as the latest single from the album. Go, request it from your favourite radio station now!
2 October 2014 - NZ Summer Tour
Massive NZ tour news!

Shihad are heading out on the road with 3 other bands for a 7 date NZ tour this summer.

Shihad will be touring with The Datsuns, I Am Giant & Cairo Knife Fight!

Stay tuned into this page for more detail as they come to light!

Dec 27 - Brewers Field, Mt Maunganui
Dec 28 - Coroglen Tavern
Dec 29 - Butlers Reef - New Plymouth
Dec 30 - Riwaka Hotel - Motueka
Dec 31 - The Square - Christchurch
Jan 02 - Waihi Beach Hotel
Jan 03 - Matakana Country Park
19 September 2014 - The Rock 1000 Charts
Here are the final standings for the 2014 edition of the Rock 1000 chart.
| | | | | | | | |
| --- | --- | --- | --- | --- | --- | --- | --- |
| # | Song | Artist | Rank in 2013 | Rank in 2012 | Rank in 2011 | Album | Year |
| 11 | The General Electric | Shihad | 30 | 9 | 63 | The General Electric | 1999 |
| 31 | Home Again | Shihad | 8 | 17 | 11 | Shihad (Fish Album) | 1996 |
| 66 | Pacifier | Shihad | 45 | 65 | 31 | The General Electric | 1999 |
| 79 | Think You're So Free | Shihad | - | - | - | FVEY | 2014 |
| 117 | My Minds Sedate | Shihad | 242 | 546 | 89 | The General Electric | 1999 |
| 136 | Run | Shihad | 173 | 99 | 46 | Pacifier | 2002 |
| 171 | La La Land | Shihad | 473 | 406 | 234 | Shihad (Fish Album) | 1996 |
| 213 | You Again | Shihad | 158 | 159 | 403 | Killjoy | 1995 |
| 256 | Wait and See | Shihad | 711 | 634 | 532 | The General Electric | 1999 |
| 265 | Everything | Shihad | 318 | 371 | 490 | Pacifier | 2002 |
| 329 | Comfort Me | Shihad | 654 | 554 | 389 | Pacifier | 2002 |
| 536 | Right Outta Nowhere | Shihad | 501 | New | - | Single Only | 2012 |
| 583 | Bulletproof | Shihad | 808 | 427 | 777 | Pacifier | 2002 |
| 598 | Lead Or Follow | Shihad | 516 | 326 | 742 | Ignite | 2010 |
| 603 | Debs Night Out | Shihad | 190 | 641 | 419 | Killjoy | 1995 |
| 626 | Beautiful Machine | Shihad | 914 | - | - | Beautiful Machine | 2008 |
| 964 | Engage | Shihad | 680 | 400 | 350 | Ignite | 2010 |
| - | One Will Hear | Shihad | 377 | 616 | 748 | Beautiful Machine | 2008 |
| - | Ignite | Shihad | 837 | 788 | 464 | Ignite | 2010 |
27 August 2014 - Australian FVEY Tour Announcement
The 2014 Australian FVEY tour was announced this afternoon on Facebook, see below for details & tickets.
| | | |
| --- | --- | --- |
| 24 Oct | The Hi-Fi | Brisbane, QLD, AU |
| 25 Oct | The Metro | Sydney, NSW, AU |
| 31 Oct | Mojos | Fremantle, WA, AU |
| 01 Nov | Rosemount Hotel | Perth, WA, AU |
| 06 Nov | The Gov | Adelaide, SA, AU |
| 07 Nov | 170 Russell | Melbourne, VIC, AU |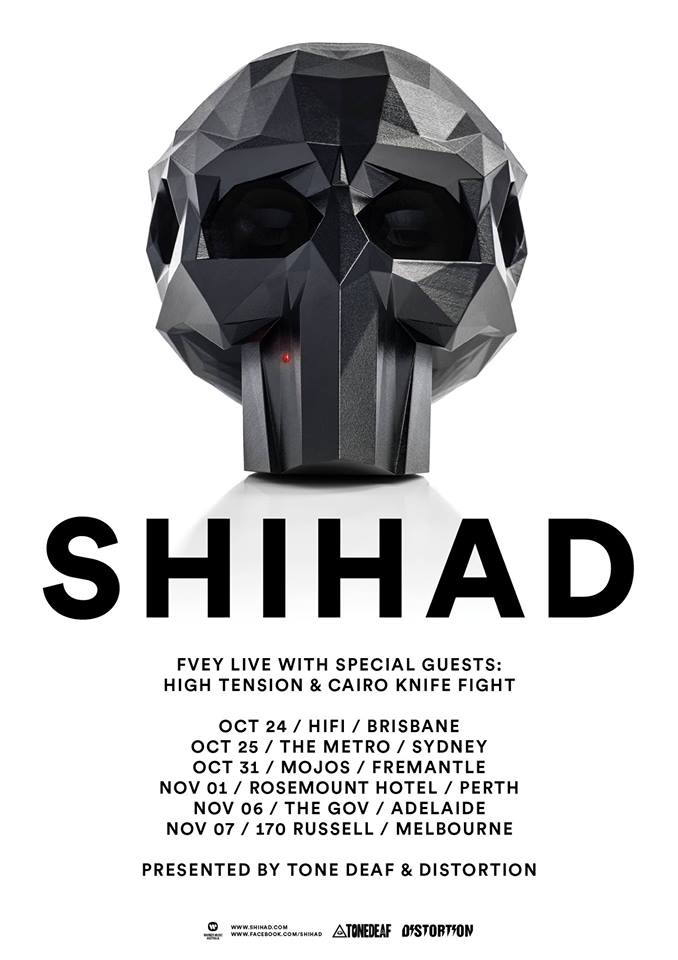 4 August 2014 - FVEY Streaming at Stuff.co.nz
Stuff.co.nz are streaming Shihad's new album FVEY. CLICK HERE to listen!
Also, Stuff.co.nz have announced that Jon Toogood and Karl Kippenberger will be doing a live chat online from Midday on Friday 8 August, as a part of the release of FVEY
27 July 2014 - Christchurch Charity Show Announced
Shihad will be playing a show in Christchurch on the 12th of September at Horncastle Arena (formally CBS Arena). This is a free gig and you need to enter a ballot to attend. It will also be broadcasts on SKY pay per view for $19.95. There are more details at http://www.shihadlive.com/.
To enter the ballot you need like Sky Arena on Facebook and then fill in a form. The Competition is open to Kiwis and Aussies.
25 July 2014 - Brisbane Show Announced
Shihad will play a Show on the 9th of September at The Zoo in Brisbane. This show is with support from The Sinking Teeth, tickets are from $30 + BF.

26 June 2014 - Massive Album News!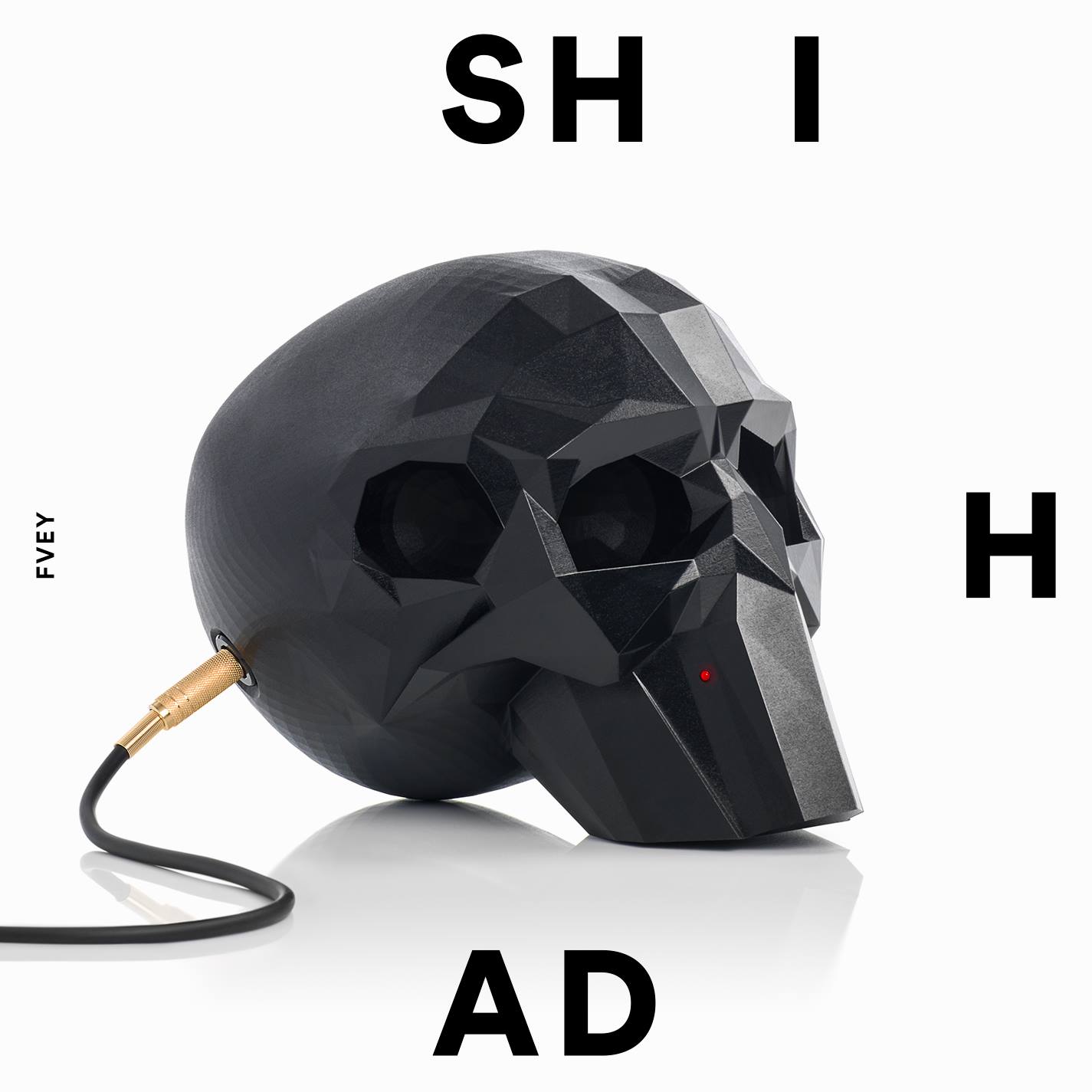 Shihad's new album, FVEY (pronounced 'Five Eyes') will be released on 8 August. The first single, 'Think You're So Free' is released tomorrow. The Sundae Sessions footage will be available on NZHerald.co.nz from 8 August.
Also, the album will be released in the following formats: 11-track standard CD, 12 track + 1 video iTunes Digital, as well as a Limited Edition CD version, with 4 extra tracks and a 12 face poster fold insert, and a 180gm double gate-fold vinyl. Pre-orders start tomorrow, 27 June 2014
Jon talks about the new album and its release at NZHerald.co.nz
05 June 2014 - What's Phil Worried About Today?
Take a look through new and old posts on Shihads Tumblr
Also in other news, Shihad have played a gig for the closing of York St Studios as apart of the Barkers Sundae Sessions.
Stay tuned here for a link to view the sessions once up.
29 November 2013 - Press Release - Shihad in the studio recording new album with legendary producer Jaz Coleman
Legacy Award winning Kiwi rock band, Shihad will return to the studio next month to record their new album with Killing Joke front-man and producer, Jaz Coleman.
The as-yet-untitled album will be the band's ninth studio album and their second collaboration with Coleman who also produced their 1993 debut, CHURN.
"It's surreal to come back to working together again after 20 years. Jaz is bringing the magic and it's sounding like the soundtrack to the end of the universe," says Shihad drummer and spokesman, Tom Larkin of the partnership.
Coincidentally, the new album will also be recorded at Parnell's York Street Studio where CHURN was recorded 20 years ago.
Jaz Coleman says, "20 years ago, I started York Street and Shihad were the first band to record there (CHURN), now full circle and back again, with a record that is already sounding explosive and we've only just begun pre-production!"
The album also sees the band continuing their relationship with Warner Music New Zealand.
Warner Music New Zealand's General Manager, Phil Howling, says, "I'm very pleased to announce the re-signing of Shihad to the Warner Music NZ Roster. I honestly can't imagine the label without them. We are also very much looking forward to the new album in 2014. The reuniting of Shihad and Jaz Coleman will be something truly special and we can't wait for the results!"
Fans can look forward to a new single from the album early next year, with the album also set for release in 2014.