Difference between revisions of "Template:News"
Line 1:
Line 1:
 
+
 
+
 
+
 
+
 
+
 
+
 
+
 

===29 November 2013 - Press Release - Shihad in the studio recording new album with legendary producer Jaz Coleman===

 

===29 November 2013 - Press Release - Shihad in the studio recording new album with legendary producer Jaz Coleman===

 
 
---
Revision as of 18:38, 13 March 2014
13 March 2014 - Upcoming show: April 17 gig in Melbourne, AU
Shihad is cranking up the live machine in an upcoming show in Melbourne on Good Friday Eve. Ahead of an imminent album release sometime this year, we're willing to bet that Shihad will be giving some of their new songs a test run...
April 17: Shihad, The Espy, Melbourne, AU, Shihad with support from Auckland band Villainy. Tickets are $31.95+BF from OZTix.
29 November 2013 - Press Release - Shihad in the studio recording new album with legendary producer Jaz Coleman
Legacy Award winning Kiwi rock band, Shihad will return to the studio next month to record their new album with Killing Joke frontman and producer, Jaz Coleman.
The as-yet-untitled album will be the band's ninth studio album and their second collaboration with Coleman who also produced their 1993 debut, CHURN.
"It's surreal to come back to working together again after 20 years. Jaz is bringing the magic and it's sounding like the soundtrack to the end of the universe," says Shihad drummer and spokesman, Tom Larkin of the partnership.
Coincidentally, the new album will also be recorded at Parnell's York Street Studio where CHURN was recorded 20 years ago.
Jaz Coleman says, "20 years ago, I started York Street and Shihad were the first band to record there (CHURN), now full circle and back again, with a record that is already sounding explosive and we've only just begun pre-production!"
The album also sees the band continuing their relationship with Warner Music New Zealand.
Warner Music New Zealand's General Manager, Phil Howling, says, "I'm very pleased to announce the re-signing of Shihad to the Warner Music NZ Roster. I honestly can't imagine the label without them. We are also very much looking forward to the new album in 2014. The reuniting of Shihad and Jaz Coleman will be something truly special and we can't wait for the results!"
Fans can look forward to a new single from the album early next year, with the album also set for release in 2014.
24 September 2013 - Shihad Unplugged concert in Auckland cancelled
The Big Band Build at the Holy Trinity Cathedral in October has been cancelled, as with the concerts that were going to be part of the event.
Shihad were due to play an unplugged set on October 16.
No word has been given as to why this the event has been cancelled as yet. Ticket holders will be refunded by NZTix and presumably TicketMaster will do the same.

We sincerely hope that Shihad resurrect this fantastic and unique concert experience some time in the future!
21 September 2013 - Upcoming shows in Auckland, Melbourne and Perth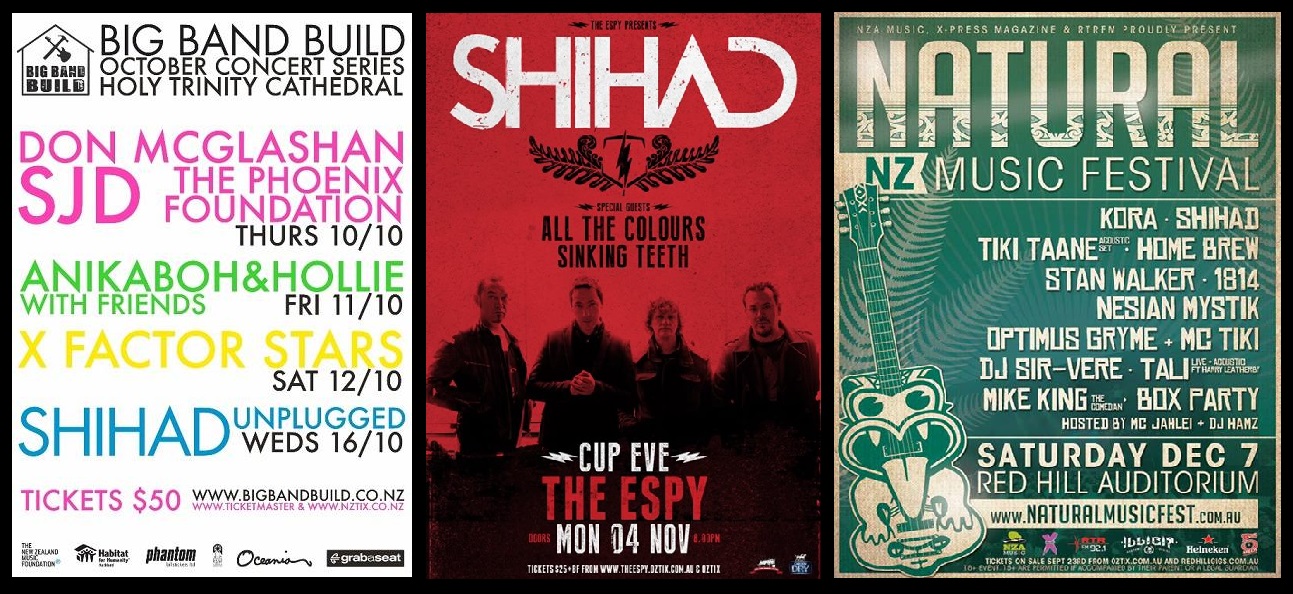 Shihad are playing a few shows in upcoming months: details are below.
October 16: Shihad Unplugged, Auckland, NZ. Shihad's acoustic show is part of the Big Band Build, a charity event to help those in need of housing. Band members will be reportedly picking up a hammer and a few tools to help with the build, so if you're in Auckland, it might be worth checking out the fuss at the Holy Trinity Cathedral in Parnell when the build kicks off! Tickets available at NZTix or Ticketmaster.
November 4: Shihad, Melbourne, AU. Shihad with special guests All The Colours and Sinking Teeth. Tickets from OZTix.
December 7: Natural NZ Music Festival, Red Hill Auditorium, Perth, AU. An all-Kiwi music event, Shihad are on the bill with Kora, Tiki Taane, Home Brew, Stan Walker, 1814, Nesian Mystik, Optimus Gryme + MC Tiki, DJ Sir-Vere, Tali, Mike King and Box Party. Tickets on sale from Monday September 23. Find more info at Natural Music Festival Website.

See you in the moshpit!
12 August 2013 - Shihad Acoustic Gig
On 16 October Shihad will be playing an Acoustic gig in Auckland
http://www.nzherald.co.nz/entertainment/news/article.cfm?c_id=1501119&objectid=10910593 (Neither of the ticket sites mentioned seem to have tickets yet so still digging)
29 April 2013 - Where to buy Churn on Vinyl
Available in New Zealand at these stores:
Auckland:
JB HiFi – Queen Street
Real Groovy Records
Southbound Records
Rhythm Records
Wellington:
JB HiFi
Slowboat Records
Rough Peel Music
Dunedin:
Christchurch:
Galaxy Records
Penny Lane
Napier:
New Plymouth:
Support your local record store.
26 March 2013 - Churn Re-release - Where To Get Your Copy
Mighty Ape have listed the vinyl re-release of Churn on their website, and it is available for pre-order. We understand that there is no planned Australian release, but with Mighty Ape being a New Zealand-run website with an Australian side, it appears all you Aussies might be able to get it from them.
Link to the NZ pre-order - [Here] NZ$29.99
Link to the Aus pre-order - [Here] AUD$23.99
25 March 2013 - Shihad To Release 20th Anniversary Remastered Edition Of Iconic Debut Album, Churn
Info straight from the record company below. As soon as we get information on where to get copies, we'll let you know.

Legendary New Zealand rockers, SHIHAD have sold more than a quarter of a million records worldwide (and counting), released nine full length albums and a greatest hits compilation and received the Herald Legacy Award at the New Zealand Music Awards in 2010.
This year, the band celebrates 20 years since the release of their debut album, CHURN with a limited edition release of the album on 180g vinyl, with all tracks remastered from the original tapes by Tony 'Jack the Bear' Mantz. With only 300 copies available, this special release is a must-have collector's item for Shihad fans.
CHURN was recorded in February 1993 at York Street Studio with producer Jaz Coleman of Killing Joke and engineer Malcolm Welsford (who had worked with Shihad on their prior EP release DEVOLVE).
Known throughout New Zealand as a phenomenal live band, CHURN was produced with no intention of ever being played on commercial radio. In fact, Shihad had a creative freedom that some of the world's biggest acts envied. In an interview in the San Francisco Examiner in 1995, Faith No More's drummer Mike Bordin, rated CHURN as his #5 favourite album ahead of The Beatles' LET IT BE which he rated as #6. And in an interview with Guitar Player in January 1994, Kirk Hammett of Metallica admitted to being a Shihad fan, describing them as "this great torqued-out band from New Zealand that sounds like Helmet meets early Killing Joke."
CHURN went on to sell 10,000 copies in NZ, achieving Gold status.
CHURN – The 20th Anniversary Remastered Edition is released on vinyl only on April 19.
Shihad will be playing two shows in Auckland, supporting Black Sabbath at Vector Arena on April 20 & 22.
CHURN – THE 20TH ANNIVERSARY REMASTERED EDITION (TRACK LISTING)
Side One 1. Factory 2. Screwtop 3. Fracture 4. Stations
Side Two 1. Clapper Loader 2. I Only Said 3. Derail 4. Bone Orchard 5. The Happy Meal
$30 pre sale at Mighty Ape
11 August 2012 - News Roundup
A lot is on the cards for the Shihad boys, with a string of dates announced for the Meanest Tour in Australia in September, and they're making an appearance back at New Zealand's CoroGold 2012 in Whitianga on December 30. Check the Gigs page for all the details.
Shihad's latest single Right Outta Nowhere is now available on iTunes NZ here and can also be found on the Australian release of the Meanest Hits CD.
20 July 2012 - Right Outta Nowhere the new single is up on soundcloud
The new single is up on Soundcloud at http://soundcloud.com/alohamusic/shihad-right-outta-nowhere
Go give it a listen.
17 July 2012 - New Single
In Aussie Shihad have released a new single called Right Outta Nowhere. This is to support Meanest Hits in Aussie. There is currently no info yet on NZ details. It was recorded by Steve Schram at York St in 2011 and Jon recently finished the vocals for it.
4 May 2012 - Cinemas Showing the Movie and Dates
ShihadWiki.com has been given the list of which cinemas are going to be showing Shihad - Beautiful Machine. See the list below for where and when:
From 17 May:
Cinema 5 Whakatane, Circus Cinema Martinborough, Embassy 3 Wanganui, Event Albany, Event Broadway, Event Chartwell, Event Embassy Wellington, Event Highland Park, Event Manukau, Event New Plymouth, Event Queen St, Event Queensgate, Event St Lukes, Event West City, Event West Gate, Event Whangarei, Geraldine Cinemas Geraldine, Hollywood Sumner, Hoyts Hamilton Te Awa, Hoyts Octagon Dunedin, Hoyts Riccarton, Hoyts Sylvia Park, Hoyts Wairau Park, Majestic Cinema Taihape, Matakana Cinemas, Mercury Twin Whitianga, Methven Cinema Paradiso, Monterey Howick, Movieworld 3 Oamaru, NBS Theatre St James Westport, Odeon Cinema Gisborne, Paradiso Wanaka
From 24 May:
Picton Cinemas, Pukekohe Cinema 3, Reading Courtenay, Reading Invercargill, Reading Palms, Reading Porirua, Reading Rotorua, Regent Greymouth
From 31 May:
Regent Pahiatua, Regent Te Awamutu, Rialto Cinema Tauranga, Rialto Cinemas Auckland, Rialto Cinemas Dunedin, State Cinemas Motueka, State Nelson, Top Town 3 Blenheim
From Early June:
Village Theatre Takaka, Whangamata Cinemas Thames
20 April 2012 - Aussie Movie Premiere at Splendour Forum
Splendour have announced the Shihad Movie will debut Splendour Forum. http://splendourinthegrass.com/main-lineup-reader/items/shihad.html
5 April 2012 - Trailer for the Movie is up
The Trailer for the Shihad Movie is up on the NZ Herald site. Go and spend 2 minutes and 17 seconds and have a watch.
28 March 2012 - Shihad Movie Site Up
The site for the Shihad Movie is up. Just has the date of 17 May on it thus far and gives you an idea of what the poster for the gig looks like.
27 March 2012 - Shihad Move Press Kit
Rialto Cinemas have released the Shihad Move Press kit. File:Shihad Movie Press Kit.pdf
21 March 2012 - Brewers Field gig moved to Brewers Stadium
Resource consent issues requires the move. Also the doors are now an hour earlier at 7 and the curfew is an hour earlier so everything will be running earlier.
21 March 2012 - And the Movie has a Facebook Page
https://www.facebook.com/pages/Shihad-Movie/319063294824900
21 March 2012 - Shihad's Beautiful Machine Documentary Trailer a Fan's first look
Well I was lucky enough to get a sneak peak at the 2 minutes and 17 seconds of trailer for the Shihad Documentary A Beautiful Machine. Unfortunately I was never left alone long enough to slip a thumb drive in and grab a copy, so you will just have to wait another week or two and have my description of it to tide you over. Firstly is it what I expected? Well umm I really don't know thinking about it, I never actually had any expectations as I really didn't really know it would be. That said I enjoyed it and it should be a good documentary, assuming it's not like one of those action movie trailers where all the good bits are actually in the trailer. The trailer felt like a story in its own right, all happened a bit fast to get the whole story, so here hopes that it continues through into the full documentary. From day 1 they wanted a documentary that would have something in it for the hardcore fan base and that they could leave feeling they knew something more or have a new perspective on it all and also create such a movie that you take your Mum along to, as it would have a story that she could connect with even though she has never heard one note of Shihad. Firstly during the trailer I was going ohh haven't heard that before and here hopes that is a longer piece in the movie. To cover off the could I take my Mum along question well looking at the trailer I think I could as there does seem to be an under lying story that takes the band from back in day until now and through all the highs and lows along the way. It is not a live concert video sure there are clips, but if you want to see a Shihad live go along to gig, nothing compares to Shihad live and bouncing around in the mosh pit and getting all the bumps, bruises and cracked ribs. Shihad have opened themselves up during the making of this documentary to let us inside to see what makes them tick and allow us to see the journey thus far of a little band called Shihad.
And to address the elephant in the room it does appear to cover the "P" word and some stuff that happened on 11/9.
The random thought for the trailer is: Man they looked young.
The poster is also in its last stages as well. It for some reason reminds me of the limited edition poster they had at the Aussie Killjoy/TGE gigs. Think it is the silhouettes in front and a mosh pit behind. In the movie poster it is the four of them in silhouette and a city in the background, with an orange gradient. Then all the names and sponsors, the "normal movie poster" stuff, at the bottom.
They have had a media screening in Auckland of the whole thing and they have been getting great feedback and that it will have a greater audience than just the fans, so make sure you take along all your family and friends to it, when it comes out in May as part of NZ Music Month.
16 February 2012 - Meanest Hits NZ Tour
The dates (see below) have been announced for the Shihad Meanest Hits tour.
April 5 - Hamilton - Altitude
April 6 - Tauranga - Brewers Field
April 7 - Coroglen - Coroglen Tavern
April 8 - Auckland - The Powerstation
April 11 - Greymouth - Railway Hotel
April 12 - Nelson - Victory Room
April 13 - Christchurch - The Big Top
April 14 - Wellington - Station Village (Lower Hutt)
Presale on the 21st sign up at http://www.muchmoremusic.co.nz/content/17/85/
The pre release: WITH A CATALOGUE OF SINGLES AND HITS THAT EASILY FILL A DOUBLE CD IT'S NO SURPRISE THEN THAT AS SHIHAD ANNOUNCE A TOUR TO CELEBRATE THE MEANEST, THEY INCLUDE THE NOTATION THAT THERE'LL BE NO SUPPORT; INSTEAD LAYING OUT A 100+ MINUTE SET TO GIVE ENOUGH TIME TO COVER THE BULK OF HITS AND FAVORITES FROM THEIR ENTIRE CATALOGUE.
The tour set is drafted to present the two dominant personalities of the Shihad live experience.
The first half set sees Shihad working at close quarters front of stage in homage to the close proximity, in-your-face intensity, of the rock bars and clubs where their music was informed. This part of the story recreates the unrefined fervor of the countless early career shit-hole gigs that gave potency to the bands live performance, while presenting the raw classics from their debut EP Devolve and their first three albums Churn, Killjoy and the self-titled Shihad.
The band's work ethic and commitment was cast in this gritty reality of hauling gear up and down stairs, in and of venues on a merry go round of one night stands from Tutukaka to Thames, and from Poland to a small town in Texas.
Reflecting the band in transition, a second stanza embraces the big stage era where Shihad grew wings and a swagger and ramped up production. Incendiary live performances followed and nothing short of a legend status bestowed as they strode the many arena stages at home and abroad - the Big Day Out, Rhythm & Vines, Rippon, Rock am Ring, Roskilde etc. Albums from The General Electric, through to Ignite comprise this era and the many live favorites and radio hits within are given a thorough belting by Shihad while fittingly accompanied by aforementioned ramped up production.
SHIHAD - THE MEANEST. A not to be missed, one time only opportunity to see and hear Shihad carve their own way through one of New Zealand's great Rock n Roll catalogues.
15 February 2012 - Latest News
Well tomorrow morning (15/2) at 9am Shihad will be announcing the details of a Tour starting in April on Shihad.com.
The Medusa gig this Friday is sold out.
And finally apparently they will be recording their ninth album in Spain.