Gig 20020921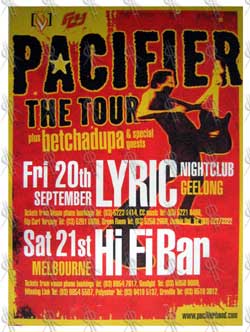 | | |
| --- | --- |
| Venue | Hi-Fi Bar |
| Date | 21st September 2002 |
| Location | Melbourne, VIC |
| Country | Australia |
| Number of songs |  ?? |
| Support | Betchadupa |
| Event start | ?? |
| Capacity | ?? |
| Ticket price | ?? |
| Sold out? | ?? |
Set List
Notes
Hi-Fi WAS A BLAST!
Jon talks about falling from a great height. smashing his foot, his guitar and someones forehead. Saturday night at the Hi-Fi was fuckin' stonking. I don't know what it is about that place but its a perfect rock venue and being thats we do everything was just FINE!
we played (extremely loudly) 10 new songs in the set and now that everyone's heard the album, the crowd could sing along to all the new ones (extremely loudly) the highlights being "I'm not fuckin' alright" in Semi-Normal and the "Fuck Yeah's" in Just a Shadow (funny that)
the heat was insane. we all danced. we all sweated. I fell off the railing on the side of the stage and clonked someone right in the middle of their forehead while smashing my foot on the dancefloor. in other words, it went off. and when we left the stage and I think I said "thanks. we needed that" and I wasn't joking.
its nights like that make you fall in love with music all over again.
fuckin' cheers!
Jon.
Bootleg
Audio
No
Video
No