Gig 20040711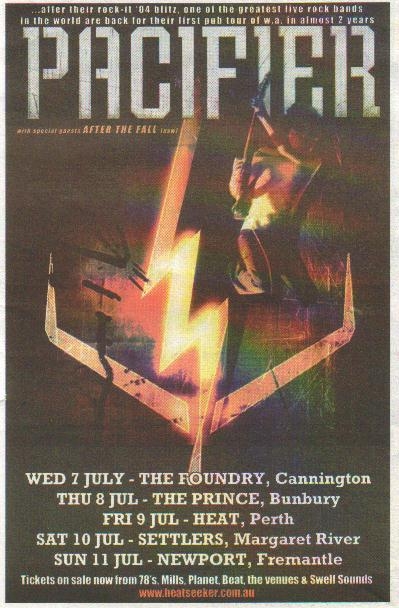 | | |
| --- | --- |
| Venue | Newport |
| Date | 11th July 2004 |
| Location | Fremantle, WA |
| Country | Australia |
| Number of songs |  ?? |
| Support | After The Fall & The Flairz |
| Event start | 8-12pm |
| Capacity | ?? |
| Ticket price | $20 |
| Sold out? | ?? |
Set List
Notes
R18 Show.
PACIFIER announce a rare run of pub shows in Western Australia....expect a great show and then double it !
It's been nearly two years since they've done a pub tour in WA as the endless festival and stadium tour demand for this band tends to put them on big stages where the seabreeze blows away the beautiful stench of sweat and beer ................ WA's most recent memory is that commanding, best-on-ground blitz they delivered to the late afternoon crowd at Rock It in March. This up-close, multi-date rock pub run in Perth is long overdue and they also bring with them shining new lights on the rock/punk circuit 'After The Fall' from NSW. The old faithful still chant 'Shihad, shihad, shihad' cos it sounds better to chant in a big crowd but whatever you like to call them this is one of the most capable, explosive and self assured live rock outfits in the world. In every corner of the globe, the reviews read the same .. whether it's music bibles like NME, Billboard or Kerrang, or an interview with Dave Grohl or another member of rocks royal family...the sentiment is always the same ..."PACIFIER are one of the greatest live rock bands in the the world today". This is not a hit and miss affair...it's a reliable, finely tuned unit with an absolute commitment on stage to deliver rock with power and heart that'll drag you in and punch you in the face every time. It's probably the only punch in the face you'll ever be glad you got and then you leave the room totally stoked, totally soaked with your ringing ears and one of those silly grins that people always have after a killer show and a few beers. With plenty of east coast and overseas action in the last few months to keep them busy there is no doubt they'll be in fine form and that their effervescent, electrifying ringleader Jon Toogood is bound to push himself to the rock and roll brink once again in his nightly effort to keep the king of rock crown glued to his head. As an end of tour treat...Pacifier rock+respect club inductees, the underground underage legends THE FLAIRZ play a rare show and hit the stage at the Newport early.
Expect great shows and then double it ... this pub run has been a long time coming!
Bootleg
Audio
No
Video
No