Gig 20100204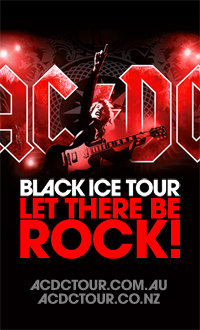 | | |
| --- | --- |
| Venue | Western Springs |
| Date | 04 February 2010 |
| Location | Auckland |
| Country | New Zealand |
| Number of songs | - |
| Support | AC/DC (Headlining), The Checks |
| Event start | 5.30pm |
| Capacity | ?? |
| Ticket price | $159.00 (GA) |
| Sold out? | No |
Tickets
Information
AC/DC the greatest rock and roll band on the planet, who have sold over 200 million records worldwide, return home to Australia in February 2010 as part of the Black Ice World Tour. It will be the band's first Australian tour since January 2001 and will - without any question - be the most spectacular rock show ever staged in this country.
Black Ice is AC/DC's first new album in over eight years and its evident the band is still an incredible force in rock. Black Ice has been certified Multi Platinum in eighteen countries, including the US, Australia, Canada, Switzerland, Sweden, Norway, Germany, France, Italy, Argentina and the Czech Republic. Additionally Black Ice has achieved Platinum status in five countries (including the UK and Spain) and Gold status in four countries.
TWO of New Zealand's greatest rock bands SHIHAD and THE CHECKS will be the special guests of AC/DC when they perform in Wellington and Auckland in the biggest rock show on the planet.
Photos
Set List
Comfort Me
My Mind's Sedate
Rule The World
Pacifier
Wait And See
The General Electric
Sleepeater
Home Again
Run
Shihad went off for the Auckland leg of the tour. The crowd were going nuts chanting Shihad! Shihad! between songs and it was far superior performance than at the Wellington shows.
Bootleg
Audio
No
Video
No