Pacifier
Between 2002 and the 17th of September 2004 Shihad was known as Pacifier
To Pacifier
Take yourself back to thee 11th of September attack in 2001. Well Shihad was trying to make it into the US, Shihad sounded awfully like Jihad. Shihad's American label laid on the pressure to change the name. Shihad settled on the name of Pacifier after the Pacifier Song.
Back to Shihad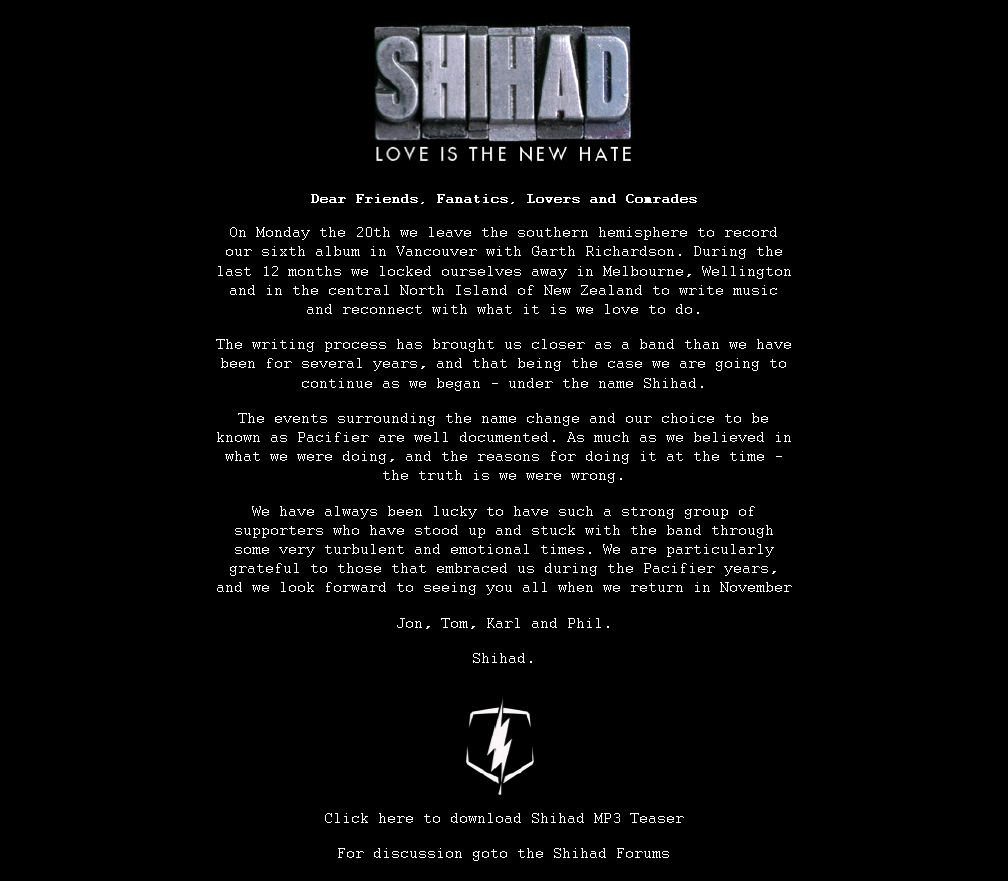 Well they didn't break in the US market and their experiences in the US weren't that good. More things to mention that support the troops concert etc
Well the Shihad fans at the NZ and Aussie Gigs still chanted "Shihad, Shihad, Shihad...." for the encore. While waiting to come back out Jon would lay the seeds for changing the name back, with things like "Doesn't that sound good". Karl apparently supporting Jon by nodding and agreeing etc. Then Tom apparently came around to the idea of changing the name back to Shihad and then Phil come around to the idea as well. (I need to check all this as I am going off the top of my head from what I can remember of a Home Grown Shihad special on C4 karit 17:25, 9 March 2007 (MST)).
Then on 17th of September 2004 Pacifierband.com in the lead up to Alive and Love Is the New Hate announced to the world that they were changing their name back to Shihad