Betatest
Shihad Wiki
Shihad Wiki is the biggest resource of information on the internet for the NZ band Shihad. This website was started in March 2007 and has steadily grown into a monster of a site. This site features information on past concerts, their discography, tabs, history and a whole lot more of history revolving around the band.
If you would like to help out and get an account so you can help edit the site email User:Karit and he will sort you out with an account and what not. Why do you need and account to edit? isn't this a wiki? Well having people sign up is in hope to stop vandalism and spamming.
There is more that we would like to do to make this site better and their there a great Team making this happen. If you like the site and want to help out in a different way have a read of this.
News
Shihad have set their release date for the new album, it will hit stores in New Zealand and Australia on the 26th of April, the same day as they play Home Grown Festival in Wellington.
Request or Vote for Shihad's " One Will Hear the Other" using the links below:
Triple J Super Request
JTV Video Requests (Hottest 20)
Nova 969 Sydney
Nova 100 Melbourne
Nova 106.9 Brisbane
Nova 93.7 Perth
Nova 91.9 Adelaide
Hot 30
Channel V What U Want Vid Requests

One Will Hear The Tour
Shihad are on tour through out Australia as we speak, covering NSW, VIC, SA, ACT and QLD, this tour runs through till the 16th of March. Click on tour poster below or go to our Gigs page for more details on these gigs.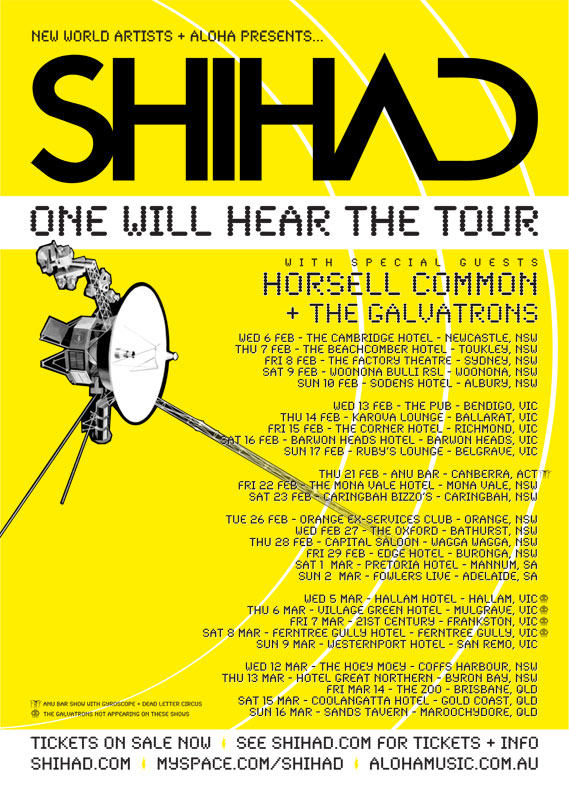 Upcoming Tour Dates
08 Mar - Ferntree Gully Hotel - Ferntree Gully, VIC, AU
07 Mar - 21st Century - Frankston, VIC, AU
06 Mar - Hotel Shoppingtown - Doncaster, VIC, AU
05 Mar - Hallam Hotel - Hallam, VIC, AU
10 Mar - The Abbotsford Convent (Push Over 2008) - Abbotsford, VIC, AU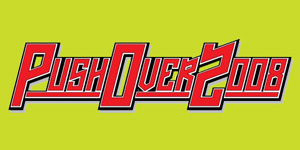 26 Apr - Wellington Waterfront (Homegrown Festival) - Wellington, NZ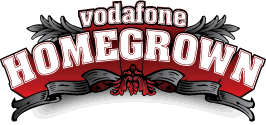 Random Fact of the Week
Shihad and Head Like A Hole played a Polish Death Metal Festival
- In 1995 Shihad and HLAH were unfortunately booked to play a Polish Death Metal Festival. A small minority of the 10,000 crowd loved HLAH while the majority roared their disapproval as Booga gave the crowd an absolute bollocking (in English, of course). Shihad played to a totally silent crowd - no clapping or booing. The bands then made a beeline for the exit and a beeline for the border. Manager Gerald Dwyer described the other bands as "brutal, extreme, totally nasty death and black metal bands."